Track the Container!
---
For over 30 years, Sister Schools has been teaching compassion, service, and social responsibility to children and young adults. Through our unique, dual-impact program, students learned first-hand what it is like to go to school in Uganda:
learning to read without any books

learning to write without paper

learning to do math without a pencil
Eight local schools participated in our supply drives in 2019, filling a 20 foot container with 20,000 pounds of school supplies. Unfortunately, that shipment was delayed by the COVID-19 pandemic.
Ugandan students need these supplies now more than ever. There is no such thing as a virtual classroom in Uganda and some kids haven't set foot inside a classroom in over thirteen months. Not having a pencil is just one more road block to furthering their education, an obstacle that your student is removing with their donations.
New this year is the opportunity for you to be involved!
For a $10 donation, you'll receive a magnet that will allow you to track the entire program.  By scanning the image on the magnet, you'll receive updates throughout the year including school pickups, the container loading and departure, its arrival in Uganda, supply distributions, and much more.
---
Hear directly from Terry about our new Track the Container Program!
Scan Code to Left with Phone Camera

Allow Permissions

Place Pin

Learn more about our Track the Container Program
P.S. If you are viewing this page on your phone, you can click the AR Code above to be taken to the experience!
---
Order Your Magnets!
---
COVID Impacts in Uganda
Many Ugandan students who were enrolled in school in March of 2020 will not be returning to school.  On average, only about half of students who start Primary School will complete all seven grades.  Coronavirus lockdowns have only exacerbated conditions that force students out of schools: reports of teen pregnancy and child marriages have spiked; already struggling students are losing hope that they can catchup; and many students have no choice but to become breadwinners for their families.
At Sister Schools, we are all about kids helping kids.  But local kids can't help Ugandan kids who aren't in school.
In May 2020, students at Fernwood Elementary School put their creative talents to work supporting our Ugandan partners.  They took their annual Benefit Concert digital and raised over $3,500 to purchase food and learning packets for Ugandan students in need.  When schools were shut down, the Ugandan Government was only able to provide each Primary School with 5 workbooks; Kiyunga Islamic, our largest partner, had over 600 students enrolled at that time.  Thanks to Fernwood, hundreds of students were able to keep their skills sharp while they weren't able to attend school.  Similarly, the government promised that vulnerable families would be given food while businesses were locked down, but the disbursement was slow to occur in villages; some Ugandans feared that hunger posed a greater risk than COVID-19.  Students at Fernwood Elementary School provided 1,000 learning packets and 5,000 meals to students and families in desperate need.
In October of that same year, Sister Schools hosted a Virtual Gala to help address implication of COVID-19 and lockdown measures.  In addition to further food and scholastic materials distributions, Sister Schools provided micro-grants to single mothers with children enrolled at Ray of Hope Orphanage and School.  Before the coronavirus, all of these women earned an income through small businesses, reselling produce or operating a stall at a market.  At the onset of the COVID-19 pandemic and lockdown, they were forced to close or scale back their businesses and have struggled to provide for their families.  Many of their children, but especially their sons, are resorting to scavenging and theft for survival.  Others are being wooed by gangs and drug dealers promising money to support their families.
As schools began to reopen in January, many of our partners were unable to meet the government Standard Operating Procedures (SOPS) and were at risk of being closed.  Excess funds from the Gala were used to purchase handwashing tanks, temperature guns, masks, and hand sanitizer/liquid soap.  At that time, all fourteen of our partner schools were cleared for reopening.
---
How You Change Lives
Sister Schools' mission is to teach compassion, service, and social responsibility to children and young adults.
Our unique, dual-impact program provides students with a life-changing experience in personal philanthropy.  Supply drives in local elementary schools not only keep Ugandan children in school, they also help our kids engage with their world-wide communities and learn how to practice generosity.  For over 30 years, Sister Schools has been planting seeds of hope in Uganda, helping students gain access to a better education.  At the same time, our children learn that no matter who they are, what they look like, or where they live, have the ability to change someone's life.
---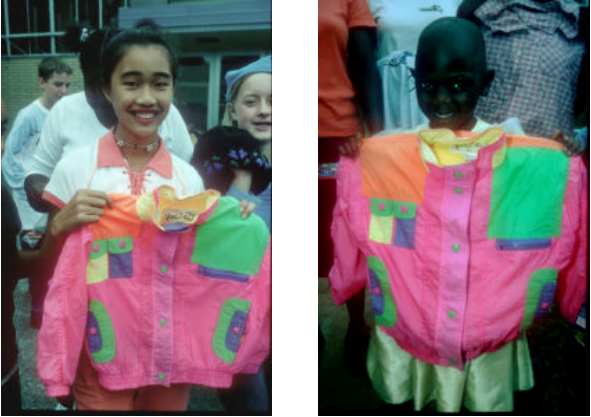 Emiko Kobayashi was first introduced to Sister Schools as a third grader at Catherine Blaine Elementary School.  More so than her classmates, Emiko knew about the struggles that the children in the presentation were facing – having spent the first eight years of her life raised in an orphanage in Guilin, China, she had slept in crowded dormitories and eaten just one meal a day.  After the presentation that day in the music room, Emiko went home and started packing up bags of toys, games, and clothes.
She especially remembered her favorite neon jacket – it was her absolute favorite and despite the fact that sleeves fell closer to her elbows than her wrists, she wore it every day.  But Emiko decided to donate it to another orphan in Uganda, simply because they needed it more.
It was a gift to see the joy on that other girl's face and to know that she positively contributed to someone else's wellbeing.  Kids don't receive that gift often, but its one that Sister Schools has delivered to thousands of students over the years.
Every year, Emiko looked forward to Sister Schools presentations, especially in the spring, when she got to see the Ugandan student who received her item.
"Sister Schools gave me the gift of seeing my jacket on another little orphaned girl.  And showing me the impact
I made in her life, my vision for my life has changed and it is now broader, deeper, and richer.
My whole experience with Sister Schools has opened my eyes to strive to do something truly meaningful with my life."
---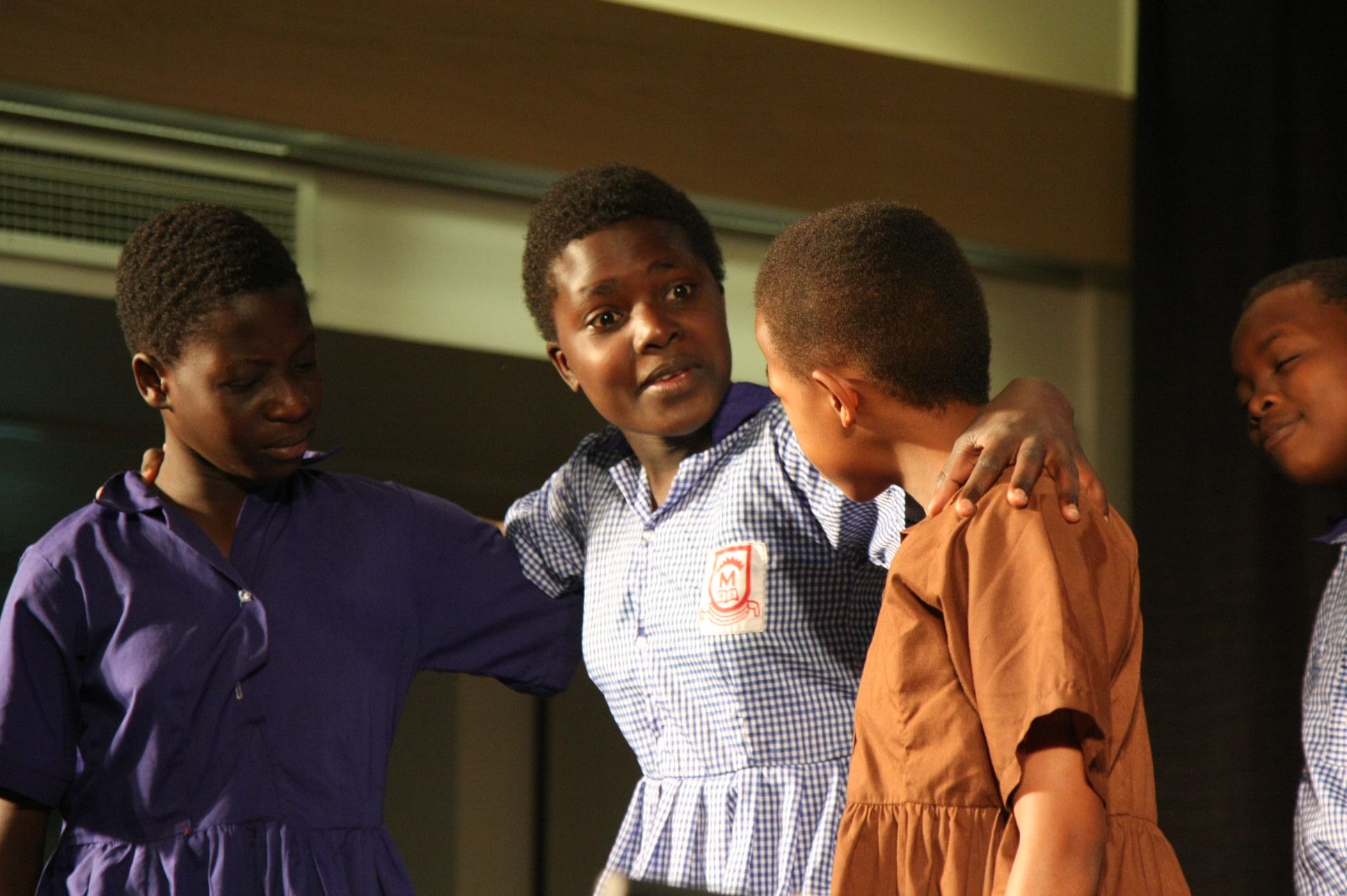 Martha Birabwa was a member of the 2008 Ssuubi Tour, a group of 12 and 13 year old Ugandan students who visited Seattle to say thank you to the students who had donated supplies to their school.
Sponsor families gave the Ssuubi kids an educational opportunity that most Ugandan children don't get – Martha had dreams of becoming a doctor, but never would have continued past 7th grade if the Gaughran and Fardella families hadn't supported her.  While she wasn't accepted into her first- choice program, Martha did pursue a diploma in public health dentistry.
In 2018 – ten years after the Ssuubi Tour, Martha met up with the Distribution Team and told them about her plans for the future: returning to school for a degree in dental surgery.  She had just returned from Gulu, a rural district in Northern Uganda, where she and classmates had been running free dental clinics.  She was frustrated because all she had been able to do was pull teeth; no one had the time or money to treat the underlying causes or invest in their dental health.
If she could go back to school for dental surgery, she could open her own practice in Kampala where she'd make enough money to reinvest in more clinics and provide real treatment in rural villages.  Last February, Martha was accepted to Makerere University's Bachelor of Dental Surgery Program.
"It is one good thing to help someone you know, but it is one great thing to help someone you don't know.
Thank you for standing with this organization.  I hope one day, I also reach out to one random person who could be facing similar issues that I had before I became a part of Sister Schools.  I pray I continue to raise the flag of Sister Schools.
Thank you for your kindness, to the sponsors, all the pupils that donate scholastic materials, all the funders, thank you so much.  That one pencil, that one cent can change someone's future."
---
Special thanks to Tracy Archuleta and Chanse Harris of Image8creations and Allen Hendren
for donating their time and expertise on this project!